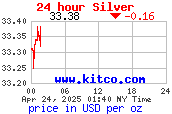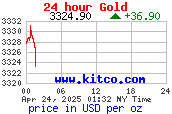 News that Scotia Mocatta transferred 5.3 million ounces of silver from registered to eligible status lead to rumors of an imminent short squeeze spreading like wildfire through the markets overnight. Silver set a new 31 year high of $46.25 before Blythe finally showed up to work for some much needed damage control. Blythe was able to stuff silver back down to the mid $45′s, but silver is already on the move back up again.
Resistance at $46 did not even slow silver down for more than a couple hours, likely indicating one of two things. Either silver is nearing the end of this leg, and in so inducing manic buying, or else its in the early stages of an imminent short squeeze. (Ok, there is a 3rd possibility, that silver senses the dollar is about to make like Niagara Falls).
Barring an extraordinary take-down silver will make a new record weekly close today as well.
Gold is currently retesting the $1500 level, which appears to have already turned from resistance into support. Gold bounced right up off of $1500 and is holding near $1504.
The dollar continued its slide overnight, selling off all the way down to 73.80. It managed a weak technical bounce there, but was turned back down right at the 74 level. Now that the 2009 low near 74.10 has been soundly broken, it won't be long before the dollar joins gold and silver in making new records daily.