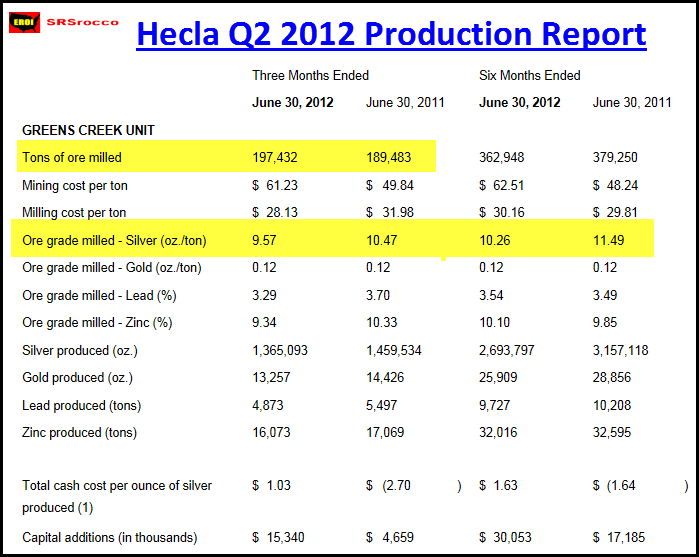 Submitted by SD Contributor SRSrocco
The two bigger silver miners came out with their Q2 Reports yesterday…. and they AIN'T PRETTY.  Now, don't get me wrong… I like silver miners, I am just showing some interesting things taking place as costs go up and prices paid for the metals go down.
Costs keep going up in a huge way and prices for silver are not keeping pace.
Let's look at Hecla first.  Of course, Hecla was going to do worse than last year because their LUCKY FRIDAY MINE is down and they have much less revenue while costs still need to be paid.  Here is the horrible results:
2011 Apr-Jun Net Earnings = $57.8 million
2012 Apr-Jun Net Earnings = -$2.5 million (yes that's right negative)
But, this is not the real issue as we all realize they can't make money when one of their mines are out of action.  Here is what I want you too look at below: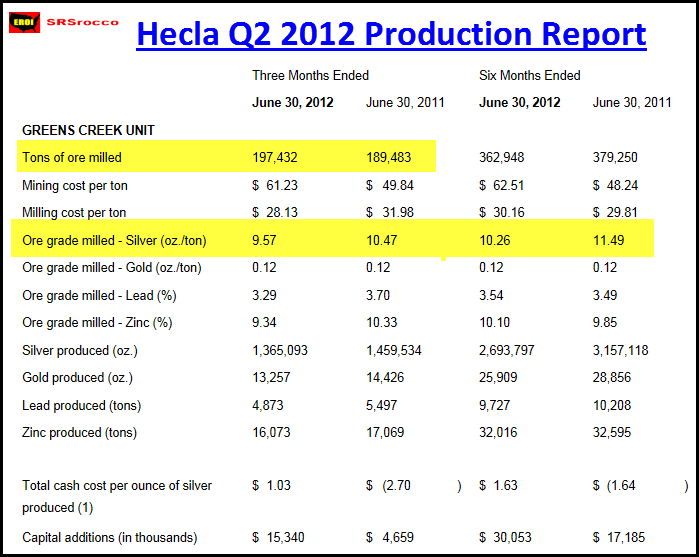 This is Hecla's biggest silver producing mine GREENS CREEK.  In just one year, the ore grade has fallen from 11.49 oz/t (JAN-JUN 2011) to only 10.26 oz/t (JAN-JUN 2012).  Now… we have to remember, that is their ore grade before processing.  If we do the math below we see a much different picture:
2011 JAN-JUN SILVER 3,157,118 oz / 379,250 MILLED TONS = 8.32 oz/ton
2012 JAN-JUN SILVER 2,693,797 0z / 362,948 MILLED TONS = 7.42 oz/ton
As we can see, the actual amount of silver from the milled ore has fallen nearly 1 oz in a year.  But this is only part of the story.  Let me bring back this table from a prior post on the annual GREENS CREEK production: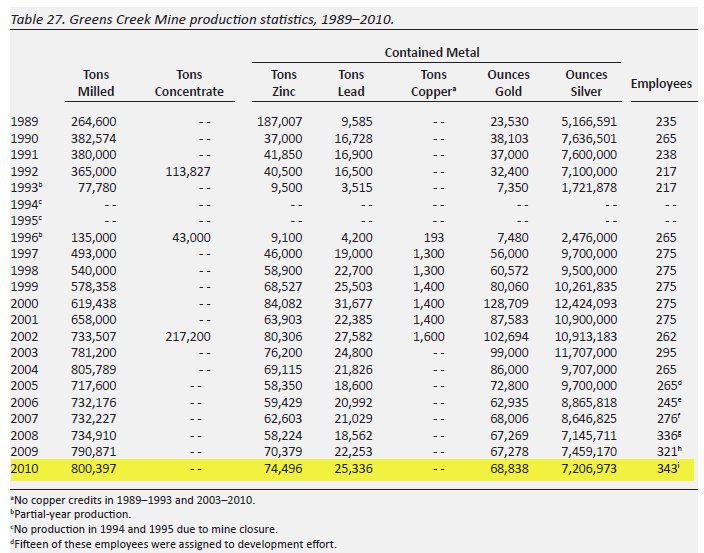 If we take a few of the years production and divide by the total tons milled we find just how much the silver ore grades are falling at GREENS CREEK:
1989 = 5,166,591 oz / 264,600 milled tons = 19.5 oz/t
2000 = 12,424,093 oz / 619,438 milled tons = 20.5 oz/ t
2010 = 7,206,973 oz / 800,397 milled tons = 9.0 oz/t
1H 2012 = 2,693,797 / 362,948 milled tons = 7.42 oz/t
Since 2000, the silver ore grades have fallen at Greens Creek.  This has also made the costs increase.  Mining costs have gone up 30% at Greens Creek compared to the same period last year.
Now… lets move to Coeur d' Alene.  If we look at the Q2 2012 report we see the following:
Net income has fallen 40% compared to same three months last year, but it's worse if we look at the first 6 months compared to the same period last year.  Net income JAN-JUN 2011 was $51.1 million, but JAN-JUN 2012 was only $26.9 million.  This was a 6 month loss of 47% over last year.
This wasn't the real good news… lets take a look at the PRODUCTION COSTS LINE.  During the first 6 months of 2012 compared to last year, the production costs were 32% greater.  However, if we compare the production costs Q2 2012 to Q2 2011…. it was up a STAGGERING 71%.
This is just off the charts folks.  Costs keep going up in a huge way and prices for silver are not keeping pace.
ANY MORON TWIT ANAL-IST THAT SAYS THE FAIR PRICE OF SILVER IS $15 AN OUNCE…..NEEDS A GOAT MILK ENEMA.