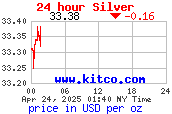 Silver appears to be attempting to break out of its trading range this morning. Silver has been capped between $34-$35.50 for the past few days. With this mornings downgrade of UK debt, the dollar has been selling off as many wisely realize that the US is not far behind the UK. Both gold and silver have climbed higher throughout the morning session, with silver leading the charge all the way up to $36.59.
We are slightly wary of this current rally, if only because this is options expiration week, which is essentially prime time for cartel manipulation.
One last take-down attempt this week would not be unexpected. If silver can continue to consolidate, and hold above $34 throughout the week, we expect silver to make a run at $40 next week or the week after. The spec long COT positions have not been this low since 2006…indicating that it is highly unlikely the cartel will be able to smash silver below the correction low near $32. Continue buying any dips that reach into the $34-$35 range…silver seems to have a funny complacency about it that indicates to The Doc it may be preparing to make its next leg higher.